Company Structure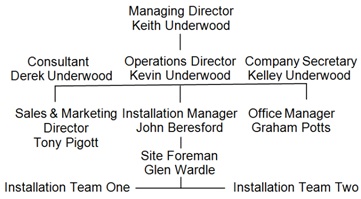 The ClubTurf brand has pioneered the development and led to the growth of dynamic-based non-turf pitches since 1976. The oldest brand in the artificial cricket world we have installed pitches all over the world as far afield as Dakar, Dubai, Hong Kong, Kenya, Malaysia, Mauritius, Mumbai, Qatar, Singapore, Tanzania, USA and of course throughout the UK and Europe. There are over 5,500 ClubTurf pitches installed worldwide.
Our Managing Director Keith Underwood has over 35 years experience in the sports equipment industry and has played, coached, umpired and administered cricket to a high standard for many more years. Keith brings vast experience from the worlds of business and cricket. Keith, who is the brother of ex England cricket player Derek Underwood, also founded our sister company Underwood Agencies which sells cricket ground equipment. Keith's relationship with ClubTurf started on the sales side while working for Underwood Agencies and became Managing Director of ClubTurf in 2006.
Our Operations Director Kevin Underwood has been working with the ClubTurf brand for the last 13 years since leaving university. Firstly on the sales side of the business while working for Underwood Agencies and since 2006 on the Operations side. Kevin is also responsible for the design and pricing of the facility. Unsurprisingly, Kevin has been involved in cricket all his life, playing, coaching, administration, and, since 1999, designing pitches and practice facilities. Kevin is expert on grant funding and can help navigate through the myriad of funding schemes available.
Our Sales and Marketing Director Tony Pigott joined the ClubTurf team in 2012. Tony played first class cricket for Sussex, Surrey and Wellington and test cricket for England in a career spanning over 20 years. Upon retiring from first class cricket Tony took over as 2nd XI coach at Surrey CCC and in 1997 he moved back to Sussex CCC in a move upstairs as the Chief Executive. Tony has vast experience in managing sports clubs and sport events and since 2005 has worked for the ECB as a Pitch Inspector, Pitch Liaison Officer, Referee and Umpire Observer.
Our Company Secretary and Special Projects Manager Kelley Underwood is a fully qualified solicitor with experience in Employment Law, Property Law and Civil Litigation. Kelley works with the Directors of the company advising on Human Resources and Health and Safety and is responsible for the recent accreditations with SAPCA and Constructionline. Kelley also advises on tendering and contracts.
Our Office Manager Graham Potts took early retirement from HM Revenue and Customs and joined ClubTurf in 2010 on a part time basis. Graham is in charge of all our administration processes and is involved in preparing quotations and tenders. Graham is still a keen active cricketer and has been the Treasurer at his cricket club for many years. Graham's vast experience of cricket committees and cricket finances assures that when you contact ClubTurf there is an understanding ear on the other end of the phone.
Our Installation Manager John Beresford is recognised as the leading non-turf cricket pitch installer in the world, having installed in excess of 4,000 pitches. John joined Club Surfaces in 1984 and has installed all our export pitches all over the world. John is in charge of our in house training programme and John has trained every one of our installers for well over a decade. John has been involved with some of the most prestigious jobs in the company history from the home of cricket on the Nursery Ground at Lords to the Practice facilities at the Kensington Oval in Barbados for the 2007 World Cup.
Our Installation Foreman Glen Wardle joined the ClubTurf team in 2007. Glen's background is in his family business of landscaping and drainage and he is our in house expert on drainage and levelling. Glen outperformed all other candidates in our in house training programme and was quickly promoted to Installation Foreman.
ClubTurf Cricket LimitedLea House5 Middlewich RoadSandbachCheshireCW11 1XRT: 01270 753344F: 01270 753644E:
info@clubturf.com
W:
www.clubturf.com